Postnatal depression: step by step approach to positive maternal mental health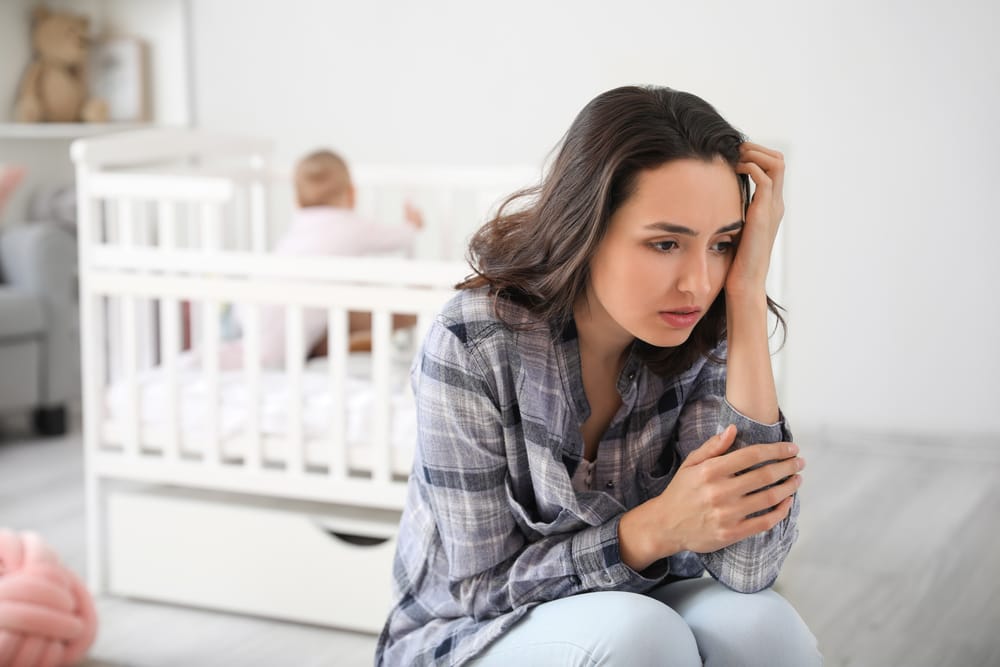 When pregnancy hormones suddenly swerve and swoop low, you become puddle of emotions. The blend of emotions taking you for a roller-coaster ride is difficult to manage. At one point you will be soaring at the dizziest heights and other times you might be curling up in a corner shedding bucket of tears. This extreme state right after delivery is what in scientific terms called as postnatal depression or postpartum depression (PPD). Being aware of what postpartum depression is and what sort of coping mechanism to follow is vital.
In this article:
What is

postnatal depression

?

Early symptoms of

postnatal depression

Ways to avail

postpartum care

and satisfy

postpartum needs

Po

stpartum recovery plan

Tips to manage

postnatal depression

Summary
What is postnatal depression?
Emotional turbulence happens post giving birth to a baby due to many factors. The excitement, bliss, apprehension, anxiety and fear; all these emotions do not settle in one place but move in circles, causing you to feel both great and hollow inside. Post pregnancy depression generally stays for 2 to 3 weeks but if your symptoms persist for longer duration, it is a clear sign of postnatal depression. Postpartum anxiety and depression is difficult to identify and easy to miss but remember that it happens to most of the women. Sometimes it can start after 2 or 3 months after delivery. Better to watch out for early postpartum symptoms so that you can seek professional help and avail right postpartum care plan.

Early symptoms of postnatal depression
Recognising PPD is first step to avail postnatal care. Postnatal depression overlaps with baby blue symptoms but latter's symptoms last for a shorter duration. The most common of postnatal depression are:
Unfounded fear, anxiety and panic attacks

Lack of focus and shifty eyes

Irritability or anger

Lack of interest in holding or taking care of baby

Headache and loss of appetite

Reduced interest in self and the environment around you

Restlessness and being fidgety

Being sad, excessive worry or

postpartum hypertension

Suicidal thoughts or thoughts on harming your baby

Being resentful and non-participative

Intense fatigue and sleeping issues

Sense of guilt and shame
Ways to avail postpartum care and satisfy postpartum needs:
Postpartum yoga and exercise –

While prenatal yoga is much talked about, it is not right to ignore

postpartum exercise and yoga

.

Infact,

postpartum recovery

module glorifies the importance of yoga in

postpartum care plan

. A daily dose of walk, yoga and practicing different postpartum related asanas is necessary to navigate negative emotions and dispelling dark thoughts. When you practice movements in yoga asanas, you release different feel-good hormones in the process, which calms your senses and erases self-doubts, fears and anxiety which, collectively, are significant symptoms of postnatal depression

.

Postpartum therapy –

Postnatal depression is caused by many factors like lack of support system, hormonal changes, sleep issues, low confidence levels, body image issues etc. Many women experience incomprehensible feelings after giving birth. While that is so, society may also gaslight you to believe that the mental trauma you are going through is not a big deal and even worse, some will emerge out of nowhere to give you false advice and thrust their airbrushed notions. Do not fall under the trap of their misleading words. Once you have managed to recognise the symptoms, try talking to a counsellor or

postpartum therapist

who is qualified enough to educate you about postpartum care. There are psychological therapies and cognitive behavioural therapy which acts as

postpartum anxiety treatments

and comes as a relief to alleviate

postnatal depression symptoms

.

Your therapist will evaluate and prescribe a remedial treatment depending on the diagnosis.

Postpartum recovery plan
Tips to manage postnatal depression:
Don't go overboard and overwhelm yourself with lot of unnecessary chores during postpartum days. Be mindful on the task at hand and centre your attention towards you and your baby

Ask for help. Your family might not be available at all times so talking to someone you trust helps. In severe cases, please don't hesitate to take professional help

You don't have to be extra productive on all days. Instead take some time off and engage with your self

Remember, you are learning about your baby and its needs so be realistic and don't fret about something going wrong. Everybody falls in postpartum journey. Try rising after every fall or hold someone who will help you rise.

Your partner is very important in parenting journey. Ask for your partner's help and delegate few tasks to reduce your stress.

Follow postpartum diet and make healthy food choices as directed by your health care provider

Move your feet whenever its possible. Go for a walk or stretch yourself for few minutes. Do not practice any fitness routine without the help of expert or trainer. Every movement should be carefully guided by a fitness expert.

Lastly, even though it sounds cliché, sleep whenever your baby sleeps as sleep helps in treating mental health issues like no other medicine

Summary:
PPD or postnatal depression is not uncommon but happens to many women post-delivery. It is not your fault or nothing to be ashamed of. There are myriad coping mechanisms to deal with PPD. Talk to your doctor, try out different methods and choose the best one that works for you.