Choose bra for maternity: Tips & Recommendations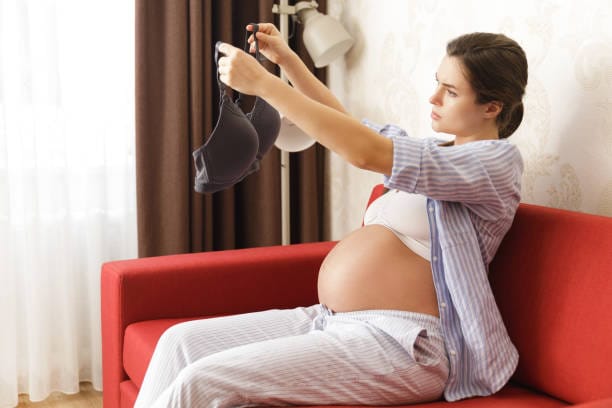 Finding the right bra for maternity is always an upheaval task because not only your bump grows during pregnancy but your whole body including your breasts bulks up more weight. In order to find comfort for your cleavage, first, you need to understand about basics of a maternity bra and its benefits during pregnancy and post-pregnancy.
In this article:
Maternity bra for pregnancy
Pregnancy comes with a lot of changes in your body. You will not look for maternity wear like maternity kurtis, maternity tops, pregnancy pants but you have to look for maternity lingerie. Investing in a maternity bra starts after 6 weeks of your pregnancy. Comfort is the common denominator for all things you invest during pregnancy even if you compare maternity bra vs normal bra, the parameter of comfort ranks much higher in the former one. During pregnancy, thoughts may plague you regarding correct size of maternity bra or how to measure maternity bra size, but worry not as our bra for maternity guide is right here to assist you on your journey to find a right cup.

When to wear maternity bra?
Once after 6 weeks, measure your bra strap and band which will give you an idea how much you have gained in those weeks and will be an eye opener to start investing on maternity bras. But that said, pregnancy doesn't follow a textbook rule and each pregnancy is different so keep assessing your body as you inch through the weeks. You will feel fullness in your breasts, as months gallop and you are on the verge of touching your full term, given that your breasts will be loaded with milk to support your growing baby's needs.
How to choose a maternity bra during pregnancy?
When you look at the options in the market, bra for maternity is laced with wide range of styles and patterns. Rummaging over different options, find the best fit by putting comfort as your top priority.
Ask your friends

– Have a chat with your friends or people in your network. Ask them what are the options and

bras for maternity

that they recommend. Try out their

maternity bra recommendations

but see to it that it works and appeals to you.

In-person shopping

– If you are a person who likes to venture into a lingerie shop and make a choice, then you can take help of the personnel or staff. A measurement of your cup size will get you closer to the right bra for maternity.

Go online

– Many brands list their

maternity and nursing bras

with size charts as people are wary to purchase bras online or do not understand how to measure maternity bra size. A size chart is a manual to achieve

the

right cup fit. Look into the size chart where bust size and band size are mentioned. Measure with a tape and subtract band size with bust size which will give you your cup size.
Tips for choosing a bra for maternity
Soft and wide straps –

Your bra for maternity should be soft and gentle to your skin that sits on your shoulders comfortable without leaving off any mark. Wide straps are ideal and go-to for all expectant mothers as it will hold up the extra weight that your breasts will tend to put on in the following weeks. Check for wide and adjustable straps for your fluctuating cup size.

Say no to underwire bras

– Breathable cotton fabric with non-padding and non-wiring should be your choice as it's antibacterial and hypoallergenic properties provide you comfort and safety during pregnancy.

Full coverage

– If your breasts are spilling out from your bra, then your maternity bra is not meeting the essential needs. Full coverage of your breasts is very much an essential ingredient. Choose a bra for maternity that is stretchable and provides room for your loaded and

still-loading

breasts.

Hooks in right nook

– Seamless maternity bras with a band that has extra hooks and eyes for fastening. It will help you in adjusting them suiting to your comfort levels.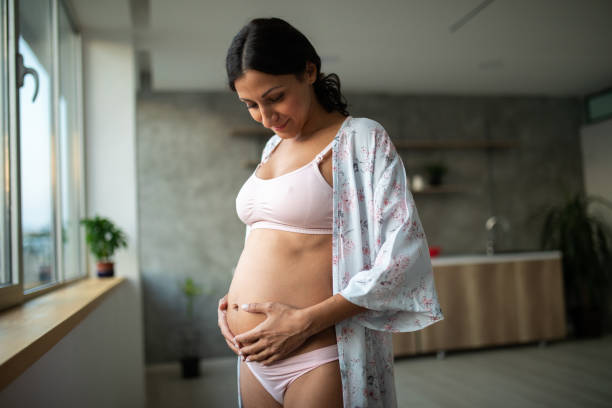 FAQs related to maternity bra
Can I wear a maternity bra when not pregnant?
Maternity bra is different from regular non-maternity bra. Maternity bra is designed to support the growing breasts all through the trimesters. Otherwise using it for normal purposes will provide discomfort to you. It is better to use maternity bra when pregnant to avail exclusive benefits that it is designed to offer.
Is wearing bra must during pregnancy?
There is a school of thought that says not wearing bra during pregnancy could result into sagging of breasts. While that is so, stretch marks is another problem that you will experience when without bra when expecting. And moreover, the load in your breasts due to milk production will be uncomfortable to move around if you are not wearing a bra. In addition to all of the above, the skin around your breasts becomes very sensitive to touch. There are tons of choices and beautiful options in terms of bra for maternity. Lack of underwire in them and soft straps in them act as a relief and is a big motivator to wear bra during pregnancy.
What is the difference between a maternity bra and nursing bra?
A nursing bra comes with clasps, zips or fit and lift panels to have an easy access to your baby's mouth to latch to your breasts while maternity bra is minus all of these but is designed to support your breasts by giving full coverage. Maternity bra, also known as pregnancy bra, has extra set of eyes and hooks and come with broader straps. Maternity bra is worn before delivery and all through the trimesters whereas nursing bra is embraced after delivery of your baby.
Where should I buy maternity bra?
When chased with the thoughts about bra size and best maternity bras, there is also one more thought which hovers the mind of expecting mothers and that is where to buy maternity bra. The answer is very simple. If you have made choice of purchasing it online, choose the maternity brand that satisfies all the criteria discussed above about maternity and nursing bras. Look for a fully adjustable with perfect fit bra for maternity that will prevent marks, sagging, and drooping and is made using 4-way stretch cotton for safety and comfort.